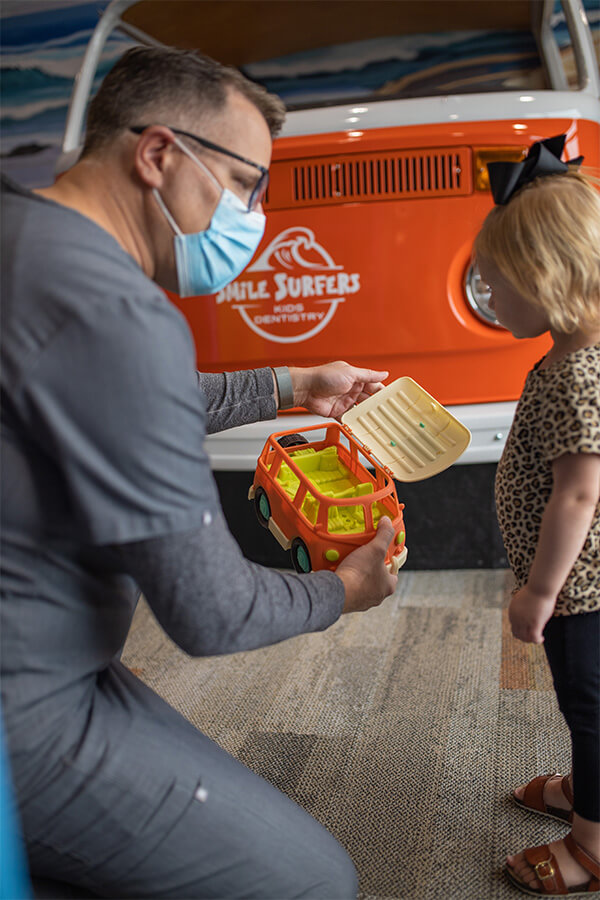 Pick up your shell-phone and
give us a call!
Contact Smile Surfers in Kennewick, WA
Our aim is to give the finest services available anywhere, which means that we want to provide access to our forms 24/7. Download and/or print out your paperwork by clicking the link below.
Every story, family, and child is different. That's why we work with your needs. We'll do our best to accommodate within your budget.
We know how packed your schedule can get. That's why we work around the clock to provide exceptional dental services for your little surfers during most school holidays.
We strive to provide your kiddo with all of the resources that they require for top-quality dental hygiene, from preventative care to early interceptive orthodontics.
Our Kennewick pediatric dentists have gone through training to become board-certified. They have combined expert knowledge of specifically working with children, including little surfers with special needs.
The parents of our little surfers have witnessed our dedication to offering top-ranking, patient-centered dentistry. Check out their feedback to see for yourself!

Watch More Quick Tips Videos!
FAQ for the Tri-Cities Area
How do I get to your Kennewick office?
From Pasco:
Head west on W Lewis St toward W Cedar Row
Take the ramp onto US-395 S, follow signs for Kennewick/Pendleton
Turn left onto W 27th Ave
Smile Surfers will be on your right
From Richland:
Head south on Jadwin Ave toward Mansfield St
Turn right onto George Washington Way and continue onto WA-240 E until you reach the Edison St exit
Turn right onto N Edison St
Turn left onto W 10th Ave
Turn right onto S Union St and continue straight through the traffic circle
At the second traffic circle, take the 3rd exit onto W 27th Ave and Smile Surfers will be on your right
Are you accepting new patients?
Of course! We're always thrilled to meet more little surfers! Our dental practice accepts patients through the ages of 0-18 years old.
Some of the insurances we accept include but are not limited to:
Delta Dental
Aetna
Metlife
Cigna
Guardian
Premera
Principal
Regence
DHA/Assurant
Ameritas/Standard
United Concordia
This is not a finite list, so if you don't see your insurance provider, please still reach out to us! Also, if you have any further questions about your insurance plan, give us a call!
What is the best time for my child to have an appointment?
We suggest that every little surfers should be seen by a dentist at least by the age of one year, in accordance with American Association of Pediatric Dentistry (AAPD) and American Association of Pediatrics (AAP) guidelines. Healthcare professionals, both medical and dental, should comply with these standards to avoid early childhood cavities. Find more resources and information on our Parent Info page!
Are there more Smile Surfers locations?
You're in luck! We want to provide top-quality dental care all across our beautiful state. In addition to our Kennewick office, we have another location close by in Richland, WA! For those closer to the western side of the state, we also have an office in Sumner, WA. If you're nearby and in need of a pediatric dentist, reach out to one of our offices!