Nourishing your child's oral health for
show-stopping smiles!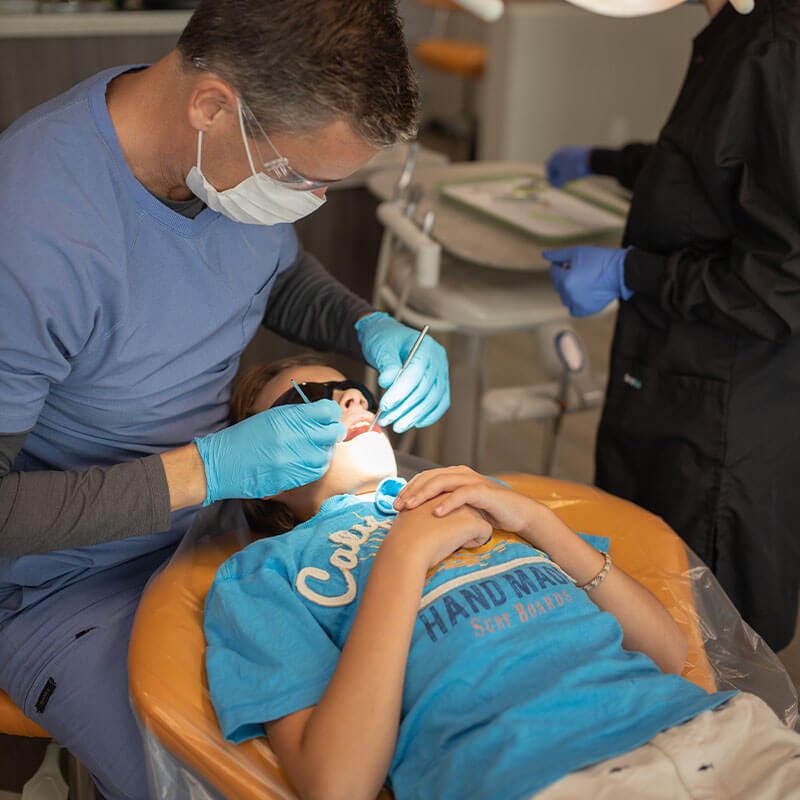 Dental Hygiene and Exams in Kennewick, WA
Hygiene and Exams are Essential for Oral Health
Even if your little surfer is totally awesome at brushing and flossing their teeth, we encourage regular checkups and cleanings at Smile Surfers because we place a strong focus on preventive treatment. Regular cleanings are critical for your children's teeth, no matter how well they take care of them. Brushing and flossing alone isn't enough to eliminate all of the plaque-forming germs. It must be removed by a dentist or dental hygienist when it hardens into tartar. This must be done to avoid cavities and gum disease for your little surfer!
Comprehensive exams enable us to spot cavities, gum disease, and other dental issues early on, before they become obvious to the naked eye.
Our pediatric dentists will also keep a close eye on your child's facial/jaw growth and development, as well as the various stages of their baby and permanent teeth. As a result, we can predict, intervene, and treat any dental issues that may arise before they become more serious, painful, and costly.
Your little surfer will understand the necessity of integrating at-home cleanliness with dental checkups if you keep up with frequent examinations and cleanings, which will be so much fun for them (we promise)!
We strive to avoid dental issues by sparking lifelong healthy habits in your little surfers!
What Happens During a Dental Exam & Cleaning?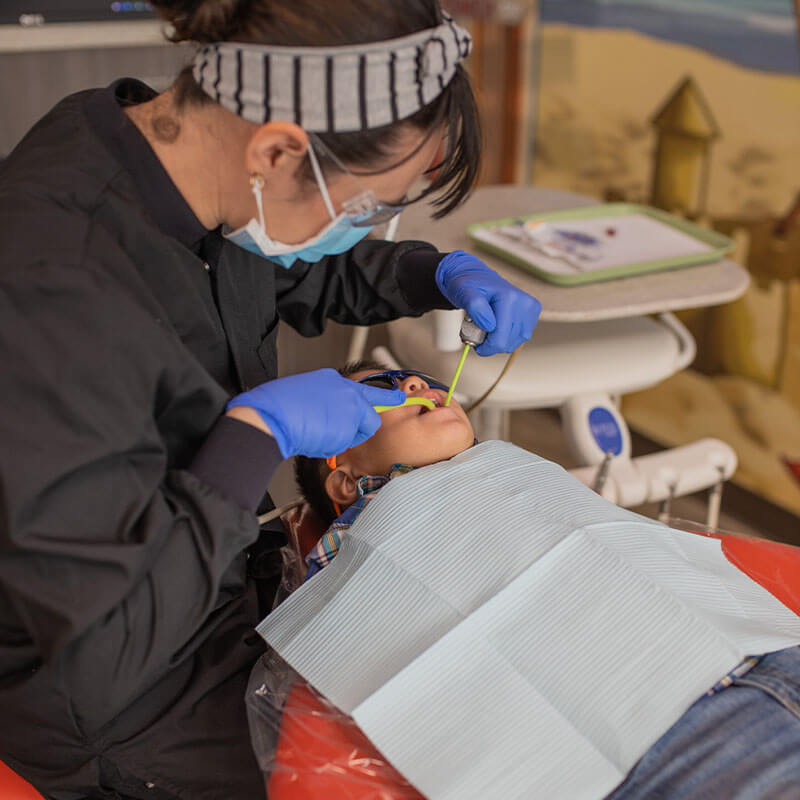 Your child's teeth and gums will be carefully examined for indications of cavities, gum disease, and other dental concerns by one of our pediatric dentists. Digital x-rays may be recommended by the pediatric dentist to examine what's going on between the teeth, under the gums, and in the surrounding bone. By using x-rays, we can also predict and prepare for your child's needs by anticipating how their teeth will grow in the future.   Digital x-rays are safe because they decrease radiation exposure by 90%. They are also particularly successful in detecting tooth abnormalities early on! If your little surfer might benefit from sealants and we have the time, we can usually finish this treatment in the same session as their cleaning. 
To evaluate the condition of your little surfer's gum tissue, a periodontal exam will be conducted by a dentist or dental hygienist.  Lack of oral health, especially gum disease, has been connected to a number of health problems, including heart disease, diabetes, and strokes. We can better protect your child's gums and overall oral health by performing periodontal exams on a regular basis.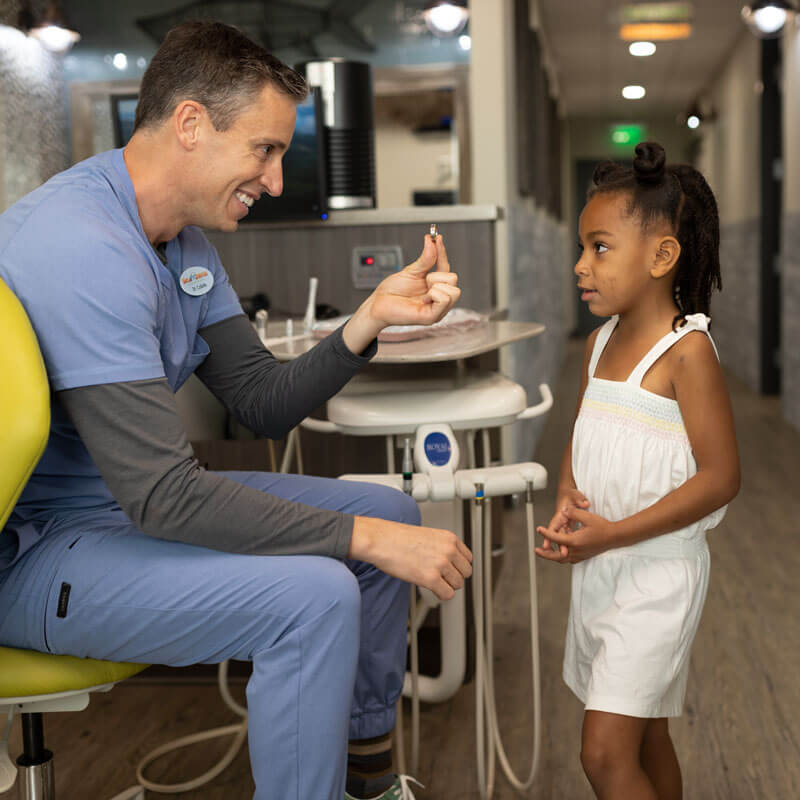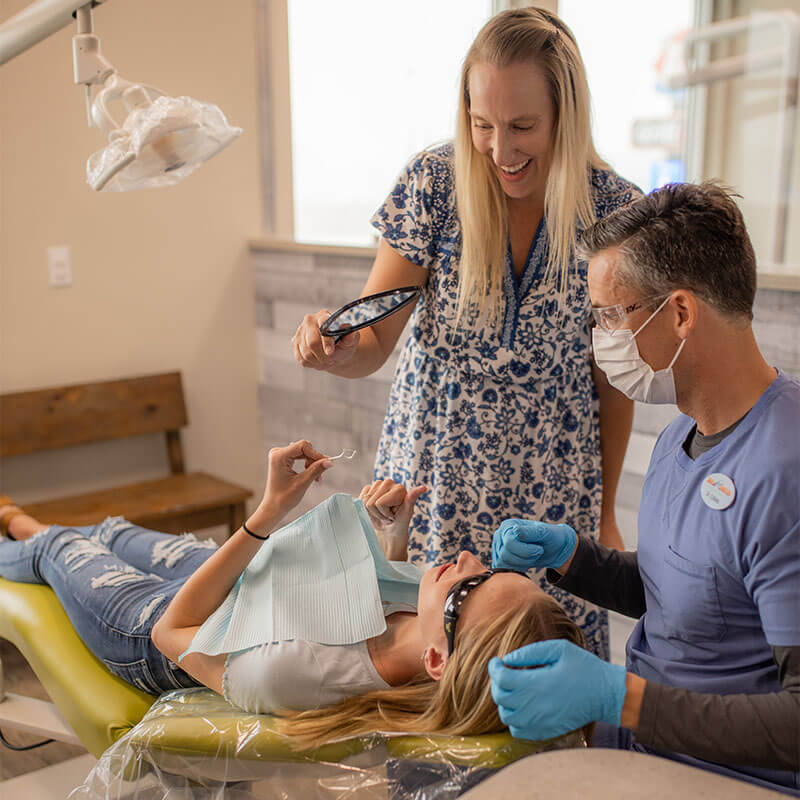 To reduce the likelihood of cavities and gum disease, a surf instructor will use state-of-the-art tools to clean your child's teeth carefully. This will remove any plaque build-up (tartar or calculus).
To eliminate plaque and stains, we will then floss and polish the teeth. Your little surfer will have a selection of tasty polish flavors to pick from!
Finally, to fight cavities, we will add a topical fluoride varnish to their teeth. Your little surfer can eat and drink immediately after receiving this form of fluoride.
At Smile Surfers, our goal is to empower you with the strength of knowledge!
Our dentists and hygienists will:
Our pediatric dentists know everything there is to know about dental hygiene!
FAQs About Dental Exams and Cleanings
What is the appropriate frequency of my child's visits to the pediatric dentist?
The American Academy of Pediatric Dentistry suggests that your little surfer comes in for a dental check-up at least every six months to avoid cavities and other dental issues. Depending on your provider's opinion about what is ideal for your child's specific needs, this time frame may differ. 
When should my child see a pediatric dentist for their first check-up?
The American Academy of Pediatric Dentistry advises that your children visit a pediatric dentist as soon as their first tooth shows up or at least by their first birthday.
To book your children's first appointments at our Kennewick, WA dental office, click here. 
Are dental x-rays truly safe for my child?
Your child's oral health and overall wellbeing are our primary focuses at Smile Surfers. When working with your little surfer, we use digital x-rays to make sure that they're always safe. These are significantly safer compared to regular x-rays, as digital x-rays lower radiation exposure by 90%.
What additional dental services do you provide?
We are pleased to provide services from Smile Surfers Kids Dentistry across several areas throughout Washington, including Sumner, Puyallup, Tacoma, and the Tri-Cities (Richland, Kennewick, and Pasco).  We provide the following services in addition to hygiene and exams:
For further information about any of these services, click here.
Do you have any additional questions?
We'd be so happy to help you out!  FAQs and answers about various pediatric dentistry topics may be found here.
You can also call our office to ask us a question directly. We'd love to hear from you!
Call Kennewick: 509-581-4455
Helping Sparkling Smiles Shine Brighter
Reach out today to book an appointment for your kiddos!