Having a Dental Emergency?
Come see our pediatric dentists in Kennewick!
Give us a call!
We're more than happy to take care of you.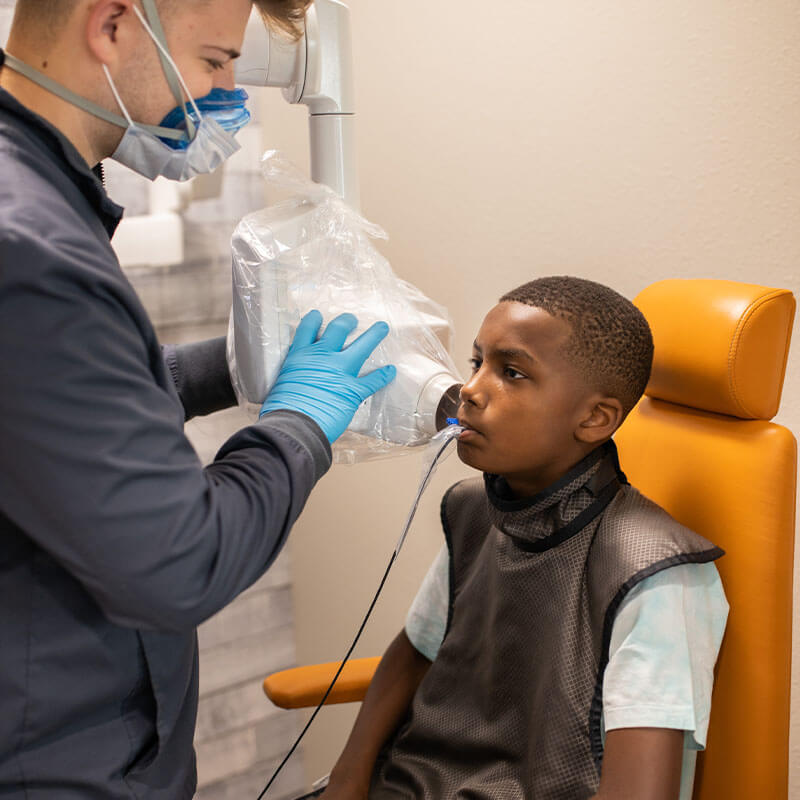 Help! I Need a Pediatric Dentist Right Away!
If your child is exhibiting any of these symptoms, please reach out to us as soon as possible:
Knocked-out permanent tooth
Chipped, fractured, or broken tooth
Toothache pain or pressure
Dental abscess
Tooth sensitivity
Lost or loose filling
We'll give our best effort to administer treatment right away and/or carefully guide you on the proper next steps.
Keep Calm in a Dental Emergency
To make sure you're prepared, keep
these tips
in mind!
If your child's baby tooth is knocked out, it does not usually cause problems or require treatment. Contact us during regular business hours.
If your child has had a permanent tooth knocked out, see our pediatric dentists immediately!
If possible, find and save the tooth, then follow these tips:
Hold it by the crown, not the root
Rinse the tooth with water, but do not clean with soap
If the tooth is not cracked or damaged, try to put it back in the original socket and have your child hold it in place by biting on gauze
If you cannot put the tooth back in its socket, put it in a cup containing your child's saliva or milk
Contact our Tri-Cities or Sumner pediatric dentists right away if your child is experiencing a chipped or cracked tooth. Washing your child's mouth out very well with water is a good idea. Hold on to any pieces of the tooth that have broken off and bring them to the dentist. If you wait, the tooth might get infected and require considerable dental treatment.
Try these remedies if your little surfer has a painful, achey tooth:
Clean the area carefully.
Use floss to remove any food that may be trapped in or around the tooth
Prepare warm water or warm saltwater and have them swish it around in their mouth
Do not apply any sort of heat to the gum or tooth.
If your child's cheek or face appears to be swelling, apply a cold compress and reach out to us as soon as possible
If your child's discomfort continues for over 24 hours, please call your local Smile Surfers office for alternative treatment suggestions.
Kids like to jump and run, and sometimes they can have little accidents that result in a bitten tongue, lip, cheek, or a cut in their mouth. If this happens, take a clean cloth or gauze and apply pressure in a firm but gentle manner to halt the bleeding. Press ice to the area to bring down the swelling and alleviate the discomfort.
If the bleeding continues, we highly encourage you to contact a doctor, or visit the nearest urgent care center or emergency room.
We Can Handle Any Emergency Dentistry Situation!
Although it might be a scary time, we'll quickly bring back your little surfer's smiles and giggles!
Dental emergencies are not something that you plan. We know that, and we'll do everything we can to treat your little surfer as soon as possible, including whatever diagnostics and treatment might be required.
Call us at 509-581-4455 for after-hours assistance. You'll hear a set of automated instructions that will guide you on the next steps until we can take over in person.
We'll care for your little surfers until their discomfort passes. If treatment is required, we have options for anesthesia and sedation, as well as an array of soothing practices at our disposal.
Before-and-after school appointment slots are available at all Smile Surfers locations. We also offer a variety of flexible financial plans, as well as dental insurance coverage.
Your child's memories of being at the dentist is extremely important in terms of fighting anxiety and setting them up with long-lasting healthy habits. This is particularly critical if your child is experiencing extreme discomfort or an emergent dental situation.
Our "Surf Instructors" prioritize preventive care. Why? We believe that by providing helpful information and resources, we can show your little surfer how to best avoid any future dental complications.

Read through our list of FAQs!
Want to Learn More About Dental Emergencies?
What services do you provide if my child suffers a dental emergency?
Our practice can help with the following:
Treatment for tooth pain or pressure
Treatment for knocked-out teeth
Emergency extractions
Emergency repair of chipped, fractured, or broken teeth
Fillings
Crowns
Baby root canals
Is it possible to visit the ER if I have a dental problem?
If the emergency is critical, such as prolonged bleeding or a fractured jaw, contact emergency services via 911 or visit your nearest hospital. Otherwise, we strongly advise consulting with one of our pediatric dentists. We advise this because most hospitals don't have dentists on-hand, so the only treatment available is primarily for pain and infections. Your child would need to come to see a pediatric dentist in order to address the dental issue and avoid any further complications or repeating problems. ER visits for dental emergencies can be more expensive, take longer, and prolong the issue, rather than visiting a pediatric dentist.
Is it possible to come in without an appointment?
If you are able to, we encourage you to please call ahead before giving us a visit.
How much will this procedure cost?
The bill from your child's visit will be determined by what treatment and/or services are necessary.
At Smile Surfers Kids Dentistry, we are dedicated to providing leading, affordable dental care to
children in need. This is why we work with a variety of financial solutions, such as:
Most dental insurance plans
Cash and major credit cards
Financing through CareCredit
Are the treatments going to cause any further pain?
Pediatric emergency dentistry is not designed to prolong or increase the pain; rather, it is intended to alleviate your child's discomfort.
Our board-certified pediatric dentists and team have worked to maintain your trust by staying up-to-date in their training on relieving pain in young patients. We take great measures to help your child feel relaxed and confident in our care.
What can I do to avoid an emergent dental situation?
We've got a great answer for you! You can steer clear from the majority of dental problems with excellent oral care and the avoidance of risky behaviors, including:
Brushing your teeth two times daily
Changing out your toothbrush after three months
Flossing through your teeth at least once daily
Reach out to a dentist shortly after detecting an oral problem (don't wait!).
Scheduling appointments for routine dental exams and hygiene maintenance
Completing dental treatments as advised
Using a mouthguard if you play sports, both contact and non-contact
Avoid using your teeth for improper actions, like opening packages
Avoid gnawing on tough items, like ice or pencils
Consume a well-rounded, nutritious diet and avoid excessive sugar consumption
Maintain your recommended daily consumption of water
Smile Surfers is Here for Your Emergent Needs
Whether you're a new or existing patient, we'd be so glad to help you out!